Enjoy the inspiring story below, from Worcester University. See the original article and links to the university courses here.
Born into an impoverished subsistence farming family in northern Malawi, Albert Mvula could not even dream of going to secondary school, let alone university. But as he graduates from the University of Worcester with a PhD in Geography, having defied the odds at each stage of his academic life, Albert says he is living proof that anything is possible.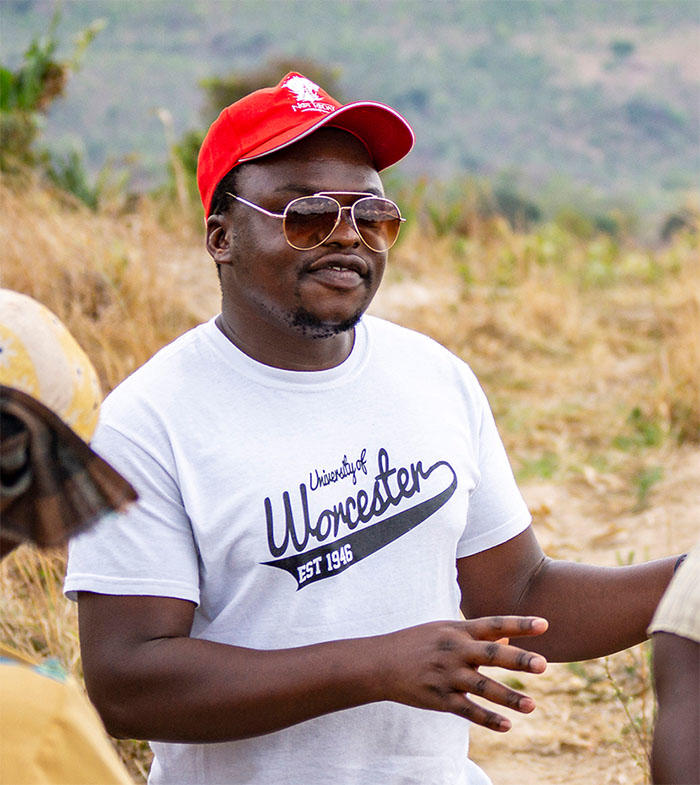 Photo credit Alan Dixon
"When I think about this, I still cannot believe it, that now I have a PhD and someone could call me Dr Albert Mvula," he said. "Sometimes I sit back and ask is this really happening? It's really difficult to believe, but it's the most beautiful thing I've ever achieved."
Now he hopes his research into sustainable farming methods will improve the lives of people in his own country by helping them to farm more sustainably.
As a child, Albert was expected to be helping his parents cultivate maize by hand in an area of Malawi that continues to be stricken by drought, land degradation and food shortages. He started work at around seven years old. Though primary schooling was available, Albert often couldn't attend due to his farming duties to ensure the family had enough food to live on.
"When I was growing up clothes or shoes wasn't a big thing," he said. "The biggest thing was finding food. The first time I had proper shoes was when I was 14.
My dad had this old radio which we used to listen to while working on the farm. That's how I came to think about school. It used to play the news in five languages, including English."
Recognising his academic abilities, his teachers convinced Albert's father to let him attend school more regularly and he managed to earn a place at secondary school. Though this required fees, Albert was sponsored through secondary school by the charity Plan International and went on to study for a degree in Natural Resources Management at the University of Malawi, in Lilongwe. Following this, he got a job working for the University of
Worcester on one of the School of Science and Environment's research projects in the area. That led to a successful application for a PhD scholarship with the University.
"Being at secondary school was a huge achievement in our village," said Albert. "Going to secondary school was a very big deal. I didn't even dream of going to university. That was unthinkable. The intake for public universities was very low. My dad thought the biggest achievement would be for me to become a primary school teacher. Even getting that first job, that was a heavenly blessing."
Albert's PhD work has been investigating the contributions of a new conservation agriculture farming system, pioneered by the charity Tiyeni, to sustainable development in northern Malawi. He has spent countless hours in the field talking to local communities about their livelihoods, the challenges they face, and how this new farming technique has enhanced their food security, the natural environment they depend on, and resilience to the impacts of climate change. He said: "It was taking me back to my roots, back to the life that I grew up in, and that gave me the passion to understand farmers from a different perspective from someone who's never had that experience."
Albert has been working closely with Tiyeni over the years, and the findings of his work will directly inform their field actions in years to come. As a result, his work is likely to have a huge impact on people's lives in Malawi and potentially throughout southern Africa.
Albert is now keen to do post-doctorate research in modelling sustainable agriculture or to work with international charities or organisations on food and agriculture initiatives.
"I want to do further research, continuing the work and forging further the links that we have, working with the poorest families in the global south and Malawi in particular," he said. "I grew up in a poor family, so these are the people I want to work with and ensure I make a significant contribution to their livelihoods, and I think our work so far has done that."
For Albert, who divides his time between Malawi and the UK, but due to the Covid-19 travel restrictions has not been with his wife and four-year-old son back in Malawi for two years, his graduation will inevitably be an emotional moment